At Wings of Virtue - We are a Family. We would like for you to meet the exceptional members of the family.
Dr. Tezonia Morgan - "The Forgiveness Doctor"
Specialization: Forgiveness Therapy, Clinical Supervision, Motivational Speaking
Payment: Cash
Accepting New Clients: Accepting previous clients only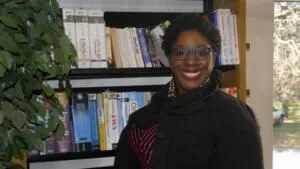 Dr. Tezonia Morgan is passionate about the mental health field, the concept of forgiveness and mental freedom in the African American community. She completed her doctorate in Counselor Education and Supervision with a specialization in Leadership and Program Development at Walden University in 2017. She has her Master's in Professional Counseling from Liberty University and holds many other certifications that enhance her ability to help people. She has received many recognitions in her field including the 2021 100 Influential Health Care Providers. She is a Licensed Professional Counselor in the states of Michigan and Colorado. She also holds the national credentials of Board-Certified Counselor and Approved Clinical Supervisor. She is enthusiastic about education and changing the mindset of today's society. Outside of teaching she has a private practice, Wings of Virtue, where she counsels conduct clinical supervision, consultation and develops research. She has been gifted with the ability to teach, visualize and build, which she uses to help restore her clients. Dr. Morgan, better known as "The Forgiveness Doctor," has studied and developed the concept of forgiveness. People around the world seek her out to walk through the forgiveness process and receive healing from past hurts. Outside of forgiveness, her research interests include racial microaggression, the breakdown of the African American home, and the deaf and hard of hearing culture. She travels across the country and presents her research findings at conferences, symposiums, and webinars. In closing, Dr. Morgan is a strong believer that counseling and counselor education are the first steps to societal change. She believes that she is helping the healing process of future influencers of the world.
Karen Osorio
Specialization: Women's Issues, Domestic Violence, Substance Abuse, Anxiety, Depression, Biblical Forgiveness, Couples Counseling and Blended Families
Payment: Cash
Accepting New Clients: Yes
My name is Karen Osorio, a Limited Licensed Counselor, pending Limited Professional Counselor and Temporary Limited License Psychologist. Karen is passionate about bringing forth an individual's best self through connecting from a genuine concern and empathic nature. She believes that one's mental health is best served by treating the whole person, body, soul and spirit which can bring about the best possible outcome. She completed her Master of Arts in the Counseling Psychology Program at Moody Theological Seminary in 2017. She engages with clients helping them work through life's hurts, trials, emotional battles and past challenges that may hinder one's ability for progress by dealing with various issues assisting in identifying destructive patterns, develop current and new skills as well as providing tools which involve achieving individual well-being. She has worked with women of domestic violence, clients with addictions including those merely wanting to have greater success in life and blended families.. She utilizes an eclectic and integrative approach to counseling for overcoming trauma from abuse of domestic violence, sexual, emotional, physical, and substance abuse. Karen not only uses her compassion, empathic and willingness to ensure her clients struggling with anxiety, depression, unforgiveness and grief succeed in an environment of safety that empowers one's life to achieve goals of peace and direction. She also works with couples in marriage and family counseling using Gottman style training.
Jada Perry
Specialization: Women's Issues, Group Therapy, Self Esteem Issues, Anxiety, Depression, Adults
Payment: Cash
Accepting New Clients: Yes
For the strong person, that is "tired" of carrying the load, you no longer have to do it alone. Jada Perry completed graduate degree in clinical mental health counseling at Spring Arbor University. Jada has a profound love for assisting others through their hardships and emotional battles. She uses her compassion and creativity to assist client's with overcoming the challenges that arise due to unresolved trauma, anxiety, and depression. Jada ensures that her client's feel safe yet empowered to conquer any external or internal turmoil that result from life's adversities. Her evidenced-based interventions and eclectic theoretical approaches are catered to the specific needs of each client mentally, emotionally, and spiritually.
Jones Oleita
Specialization: Men's Issues, Marriage and Family, Anxiety, Depression, Organizational Leadership
Payment: Insurance, Cash
Accepting New Clients: Yes
My name is Kesena Oleita, but please call me Jones :). Creating meaning and connection in your relationship is something that you don't have to do alone. Bringing help to couples has been Jones long standing goal. Jones Oleita is completing his graduate degree in family and marriage therapy from Liberty University. He has great passion for helping couples navigate and connect deeply by managing conflict and honor each other dreams. He has over 20 years experience with marriage and couples counseling through his ministry. He helps partners build confidence and security in each other. Jones uses the treatment strategies from the emotional focused therapy and cognitive behavior therapies using elements of the Gottman couple's therapy. He is compassionate, fun loving and nonjudgmental. In addition to marriage and family, Jones specializes in organizational leadership consultation to assist businesses generate wealth.
Tiffany Farley
Specialization: Women's Issues, Adolescent Issues, Children's Issues, Anxiety, Depression
Payment: Insurance and Cash
Accepting New Clients: Yes
My name is Tiffany Farley and I am currently a student at Liberty University completing my Master of Arts in Clinical Mental Health Counseling. I am currently a member of the American Counseling Association (ACA) that is dedicated to the growth and enhancement of the counseling profession. I have aspired and been actively dedicated to joining the mission of the Mental Health Profession for the last twelve years. I am committed to serving those in need, embodying the ability and willingness to listen, support, and help facilitate growth. As a future clinician, I am committed to staying current on interventions supported by research in the counseling field to drive my professional development. I am excited about this journey and all the lives that will be positively affected as a result of my service to them.

Ali Asad Somjee
Specialization: Marriage & Family, Relationships, Couples Counseling Adolescents, Men's Issues
Payment: Insurance, Cash
Accepting New Clients: Yes
Ali Asad is completing his Master's in Marriage & Family Therapy from Syracuse University. He approaches therapeutic interactions from a relational and pragmatic perspective by: focusing on building authentic connections, allowing clients a non-judgemental space to be themselves, and taking a 'whatever works' approach to treatments and interventions. Due to his multicultural background and experience, Ali Asad enjoys working with people of all walks of life and finds connecting with others an intrinsically meaningful and fulfilling experience. Academically, his research interests include the application of flow theory and personality psychology to the MFT field. Previously, Ali Asad worked in youth services where he mentored immigrant high school students to help them develop their social and emotional skills.